IS9001 : 2008
Howard Butler has IS09001:2008 approval. Please download a copy of our certificate of approval in pdf format here
Company Quality Policy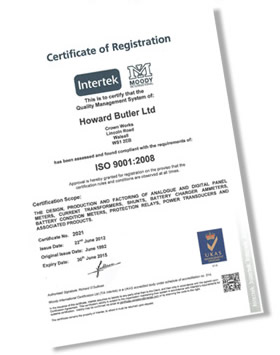 The Company Quality Policy is based on the concept that Quality must be designed and built into the product and that this can only be achieved by vigilance, design, control and accountability at all stages of manufacture and at all levels within the organisation.
The objective of our Quality Assurance Policy is to ensure that our products, in all respects, meet the specified quality standards of Howard Butler Ltd and those of our customers, at the right time, price and quality.
It is the declared policy of the Company that all members of the organisation shall be actively involved in the pursuit of providing improving customer satisfaction through the continuous implementation, maintenance and application of the prescribed Quality Assurance Systems.
For further information on our quality systems & procedures please contact our Quality Manager, Carl Webster, This email address is being protected from spambots. You need JavaScript enabled to view it.